The Urban Garage™ is a boutique auto dealership which sells and leases all makes of new and pre-owned luxury and performance vehicles. While we specialize and maintain an inventory of fine luxury and performance cars, we also act as a broker in obtaining any make of new vehicle at reduced prices. For more information on this service see our New Vehicle Sales section. The Urban Garage also sells automotive accessories. We are located in the heart of Ambleside in West Vancouver at 1529 Clyde Avenue (see Map).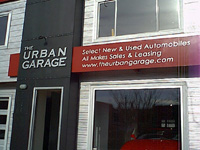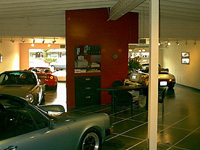 Mission Statement
The Urban Garage™ is owned and operated by Duncan Pearce, a long time West Vancouver resident. Duncan's philosophy with respect to the business is summarized in its mission statement. "The Urban Garage™ will cater to its clients' automotive needs by providing them with the finest quality motor vehicles and motoring accessories. As automotive experience providers, we will deliver our products to our customers in a relaxed yet professional atmosphere that promotes fun and appreciation of the automobile, while maximizing convenience and value for our clients."
Why buy a vehicle from The Urban Garage™?
The Urban Garage is a small, personalized, boutique auto dealership. As a result, we offer an entirely different atmosphere and car buying experience from a typical large dealership. We offer a relaxed, fun, and personalized atmosphere where we can work with clients to find the right vehicle for their needs. In many ways, The Urban Garage™ has become a gathering place for auto enthusiasts and with local North Shore residents who love cars.